ABColombia is the advocacy project of a group of five leading UK and Irish organisations with programmes in Colombia: CAFOD, Christian Aid UKI, Oxfam GB, SCIAF and Trócaire. Amnesty International and Peace Brigades International (PBI) are observers.
ABColombia's purpose is to influence decision makers in the UK and Ireland and, through them, European level decision making with a view to resolving the human rights and humanitarian crisis in Colombia and achieve a lasting peace and equitable and sustainable development.
ABColombia's long-term goals are: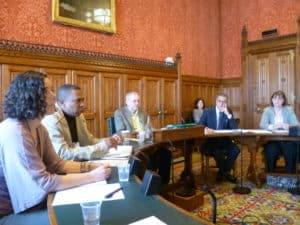 To secure the right of the civilian population not to be involved in the armed conflict.
To secure the full implementation of recommendations made by the UN system with regard to human rights, internal displacement and international humanitarian law.
To obtain lasting solutions to the humanitarian crisis – dignified and voluntary returns to place of origin, or voluntary resettlement with guarantees.
To support the work of human rights defenders, social organisations, and those working with the forcibly displaced.
To work for a negotiated end to the armed conflict that includes the voice of Colombian civil society and prioritizes human rights and IHL on the agenda. This includes ensuring that the right to truth, justice, reparation and non repetition – as defined by the UN Office in Colombia – is built into the negotiation process.
To secure just and sustainable social and economic development in Colombia.