Judicial attacks against Human Rights Defenders continue in Colombia despite the signing of a Peace Accord with the FARC Guerrillas.
However, ABColombia received welcome news that on 20 June 2017, David Ravelo Crespo, a Colombian Human Rights Defender, was released conditionally after being incarcerated for nearly seven years. Whilst the case continues, this is at least the first positive step by the justice system in those seven years.
On 14 September 2010, Mr. Ravelo was detained and incarcerated, accused of being the intellectual author of the murder of David Núñez Cala in 1991. Mr Núñez Cala was a civil servant in Barrancabermeja. Mr Ravelo was sentenced to 18 years in prison for aggravated homicide on 5 December 2012.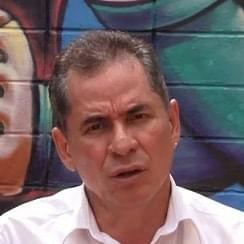 The accusation against Mr Ravelo was based on the testimonies of paramilitary commanders Mario Jaimes Mejía, alias 'El Panadero', and Fremio Sánchez, alias 'Comando Esteban'. Mr Ravelo had previously denounced crimes by these two commanders and on the basis of his testimony they had been sentenced. According to Mr Ravelo's defence lawyers, the case was based on three witness statements against him and the court failed to take into account the thirty testimonies in favour of Mr. Ravelo.
Mr Ravelo's lawyers also reported several irregularities in the legal process, amongst them the fact that the Public Prosecutor responsible for opening the case against David Ravelo, William Gildardo Pacheco Granados, a lieutenant in the National Police prior to being a Public Prosecutor, was investigated and dismissed in 1993 by the Prosecutors Office for supposed involvement in a forced disappearance in 1991. Despite Colombian law barring anyone with a criminal conviction from being a Public Prosecutor, Mr Pacheco continued in this role.
Over the years, UN Special Rapporteurs, and national and international organisations and networks have expressed concern over the prosecution of Mr Ravelo and called for the Justice System in Colombia to respect due process.
In 2017, Mr Ravelo's lawyer presented his case to the Special Jurisdiction for Peace, submitted to the Amnesty, Pardon and Special Criminal Treatments Law, so that the case could be studied by the Review Section of the Peace Court. Meanwhile, Mr Ravelo has been released as an innocent person on parole.
Recommendations:
We recommend to the Colombian State:
That the National Protection Unit (UNP), coordinate the protection and security measures he and his family require given the increased number of killings of human rights defenders
To investigate all irregularities that have been reported during the imprisonment of David Ravelo and to sanction those responsible;
To the UK Embassy in Colombia
To continue to monitor and observe the legal process


---
References: