At ABColombia we help interns develop a wide range of skills to prepare them for a future career in the field of human rights. Previous interns are now working with different (international) NGOs in the UK, Colombia and elsewhere. In this section you can find out more about our current and previous interns' experience at ABColombia. If this sounds interesting to you, please do get in touch.
Working with ABColombia as a Research & Communications intern has provided me with the perfect opportunity to combine my main interests during my studies in gender, human rights, and the Colombian conflict. Being able to help with the report on gender is definitely something I am extremely grateful and proud of, as it is exactly what I hoped to do when I started my studies, so it was literally a chance to put my studies and efforts into practice, and for a cause I am passionate about.

Paula Aghon Torres (Intern in 2018)
Current Interns
Camila Ferraro (Intern in 2020/21)
Camila is from Medellin, Colombia. She studied the BPTC at BPP Law School in London under the Jules Thorn Scholarship and has a particular interest in international criminal law. Having travelled across Colombia and spent time in El Choco, she is passionate about issues involving illicit crops substitution and rural prosperity in armed conflict areas. She looks forward to developing her knowledge on a broad range of human rights issues in the country during her internship at ABColombia.
Margarita Zamudio (Intern in 2020/21)
Margarita is from Colombia, she holds a Master's degree in Development Studies from the University of Sussex . She wrote and researched for her dissertation about social protection programs and how they benefit women who are affected by conflict in Colombia. She had worked for more than six years in three different UN organizations, such as The World Bank, UNODC and UNOPS.  She was interested in learning from this experience more about topics of Human Rights defenders in Colombia.
Rita Trias Prats (Intern in 2020/21)
Rita has recently completed a MA in Gender, Violence and Conflict at University of Sussex and holds a BA in Global Studies from Universitat Pompeu Fabra (Barcelona). In parallel with her studies, she has been actively involved in youth-led local and global projects on non-formal education and social justice. She is interested in doing research on gendered experiences of war, violence and resistance from feminist and decolonial approaches to the study of world politics. Recently, she dedicated her dissertation to explore the continuities of violence in Colombia's 'post-deal' context also looking at local understandings and visions of peace.
Georgina Turner (Intern in 2020/21)
Georgina is joining the ABColombia intern team alongside her studies of International Relations of the Americas Msc at UCL. Following her time studying in and travelling through Argentina, Brazil and Cuba as a part of her BA from the University of Birmingham, she developed a strong interest in migration pathways and human rights issues with an intersectional lens. Her fluency in French, Spanish and Portuguese has allowed for active involvement with local outreach programmes, fuelling her interest in public policies in Latin America. She is eager both to develop her knowledge and contribute to ABColombia's cause amidst the crisis of Human Rights Defenders in Colombia.
Previous Interns
Shivani Dodhia (Intern in 2020)
Shivani graduated with a BA International Relations and Spanish degree from the University of Leeds in 2019; having spent a year studying in Argentina and traveling around South America, she developed a keen interest in Colombian politics and society. During this year in South America she was able to learn about current political climates and ongoing social and human rights issues first-hand and has now steered her onto a career path in human rights. Additionally, in her degree she explored extensively themes of violence and reconciliation in the Global South and the effects of transitional justice mechanisms on sexual and gender-based violence which she is hoping to apply and develop such knowledge in the internship at ABColombia.
Maria Jimena Lopez (Intern in 2020)
Maria is from Colombia when she started the Internship with ABColombia holds she held a BA in Anthropology and a master's degree in Political Studies, both from the National University of Colombia. She had worked for more than seven years building bridges between social research methods and the design, implementation and evaluation of public policy in the public sector and with NGO's. The public policy was aimed at improving  rural communities' livelihood in Colombia. Previous to this she had worked as a social researcher studying the construction of social order in societies affected by violence, especially, regarding images of violence and collective action. Currently, she is studying a MSc in Comparative Politics at the London School of Economics where her research topic looks at the correlation between changing agrarian practices, illicit crops and social inequalities in Colombia.
Lucas Kantaris Díaz (Intern in 2020)
Lucas is currently undertaking an internship with ABColombia while studying for an MA in International Political Economy at King's College London. He is half Colombian and is passionate about Colombian culture – having visited and traveled around Colombia many times. He has previously interned at the UK parliament and hopes to pursue a career working in international affairs. Lucas is particularly interested in the interaction between multinational corporations and politics and is excited to be working on projects related to mining and oil extraction. He is currently researching many of these aspects within a wider theoretical framework of neoliberal implementation in Colombia for his MA dissertation.
Saskia Hughes (Intern in 2019)
I have been able to research and work on very important and interesting issues during my time at ABColombia. It has also given me an invaluable insight into the professional environment of human rights advocacy. I have also had the chance to meet Colombian human rights defenders and journalists who do very challenging and inspiring work."
Saskia completed an internship with ABColombia in 2019 whilst studying Latin American Studies at UCL part time. For her undergraduate degree she studied Illustration and is currently exploring ideas around the intersectionality between politics, performance art and protest in the Americas. During her internship she worked on a case study on the human rights impacts of a large scale extractive project in Colombia. She hopes to live in South America in the future and pursue a career that combines art with human rights.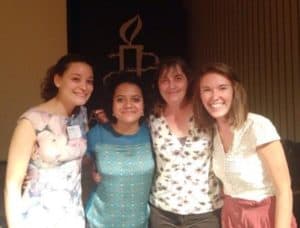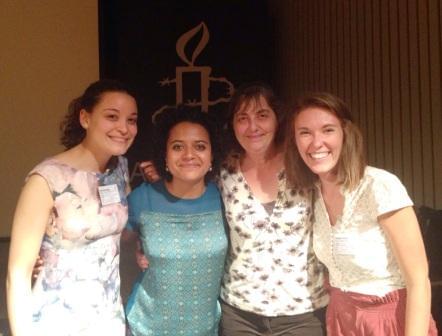 Renan de Souza (Intern in 2019)
Working with ABColombia as a Research and Communications Intern was a deeply rewarding experience which enabled me to not only deal directly with human rights but also gain experience in policy-making, international politics, conflict, international development and peacebuilding. I am extremally grateful for this opportunity and for working on the launch of a report and in a meeting to update the British parliamentarians about the current political situation in Colombia. I am so proud of being part of the team. ABColombia gave me a lifetime professional experience."
Renan is a journalist and international relations expert with over ten years of professional experience. He is fluent in Portuguese, English and Spanish. Before interning with ABColombia, Renan was the Head of International Desk at SBT, the second most important TV network in Brazil, where he produced several breaking news stories. In the United Kingdom, he studied an MA in International Relations at Goldsmiths, University of London. His dissertation was focused on international security.
Paula Aghon Torres (Intern in 2018)
Working with ABColombia as a Research & Communications intern has provided me with the perfect opportunity to combine my main interests during my studies in gender, human rights, and the Colombian conflict. Being able to help with the report on gender is definitely something I am extremely grateful and proud of, as it is exactly what I hoped to do when I started my studies, so it was literally a chance to put my studies and efforts into practice, and for a cause I am passionate about."
Paula interned with ABColombia from May to November 2018. She completed her MSc in Gender, Development, and Globalisation at LSE, where she focused particularly on human rights in the Global South. Her dissertation research focused on the gender approach in the Colombian Peace Process and Final Peace Agreement, and previously during her BA in International Relations at King's College London, her dissertation examined the prospects of peace in Colombia after the 2016 Peace Agreement. She has previously interned in the United Nations ECLAC in the Gender Issues Division, focusing on carework rights and women's empowerment across Latin America, as well as in Socialyse Havas Media with the Social Media Team.
Helen Carter (Intern in 2018)
Working with ABColombia as a Research & Communications intern has been very rewarding. I have met a Colombian Human Rights defender visiting the UK, which was an incredible experience. The internship offers me the opportunity to utilise my Spanish skills through research and expand my knowledge on Human Rights advocacy in the UK and Europe. I look forward to what I will continue to learn during my time here!
Helen interned with ABColombia from February to August 2018. She completed her BA in History with Spanish at UCL, where she focused on Latin American and Chilean cultural and social history of the 20th century. As part of her degree she undertook a research project in Santiago, Chile, interviewing local mural artists about alternative, artistic forms of political expression. She has previously volunteered for AIESEC in Mexico City, leading workshops in youth groups on environmental issues and multiculturalism. Prior to this, she volunteered in Honduras, working on issues such as gender equality, women's empowerment and micro-enterprise. Helen currently works as a Development Officer for West London Zone.
Georgia Burke (Intern in 2017/18)
From day-one I was actively involved in the organisation of the conference 'Colombia securing peace: women's achievements and the challenges ahead' and a closed seminar in Parliament. It was a hands-on internship, giving me the chance to gain insight into human rights advocacy at the UK and EU level, whilst further developing my own research skills. Working on human rights and humanitarian issues at a critical point of the Peace Process was extremely rewarding, and something that I hope defines the start of my career within the NGO sector.
Georgia interned with ABColombia from November 2017 to April 2018. Previously, she completed an MA in Latin American Studies at UCL, where her dissertation research focused on legal response to gender-based violence (GBV) committed against women in Mexico, which frames GBV as a fundamental violation of women's human rights. Prior to this, during her Bachelor's degree in Spanish at the University of Bristol, she was involved in a notable student-led platform which provided social, cultural and political insight into the Latin America region.
Jeremy Anselmo (Intern in 2017)
I am thrilled to be involved in human rights advocacy. Having the opportunity to work towards the protection of human rights defenders is, above all, a privilege and I look forward to being more and more involved in our team.
Jeremy was interning with ABColombia in 2017. He recently completed a Masters in International Relations of the Americas at UCL. He specialised on the Caribbean region and the Andean region. He previously interned with LatinNews, a news agency reporting on political and economic news about Latin America. He will be contributing to fundraising, event management and communications.
Emily Brown (Intern in 2017)

Working with ABColombia as a Research and Communications Intern provided me with a real insight into advocacy work and the daily running of an NGO. The role is varied and offers the opportunity to develop skills and gain experience in a range of areas such as writing reports, planning events and using social media.
Before staring an internship with ABColombia, Emily completed an LLM in Human Rights Law at Queen Mary University. As part of her undergraduate degree in Law and Spanish, she spent a year volunteering in El Salvador which developed her interest in human rights and international development in the Latin American region.
Maria Hoyos (Intern in 2016/17)
I decided to work with ABColombia because I am really passionate about working for peace and human rights in Colombia. I believe that my generation has the duty to change our future and to have the opportunity to learn from the work of an international agency with a remarkable experience in research and advocacy, gives me all the inspiration to continue on this path.

Maria interned with ABColombia in 2016/2017 while she was completing her Masters in Human Rights at London School of Economics and Political Science. At ABColombia, she provided important help towards our report on Human Rights Defenders, including organizing the launch of the report and the Special Rapporteurs' visit to Colombia. Maria is now working with the Unit of Land Restitution for victims of dispossession and forced displacement in the office based in the Meta department (Colombia) as a Context Researcher.
Lorena Cuervo (Intern in 2014/15)
Being an intern with ABColombia was a wonderful experience. Having the opportunity to collaborate for such a fantastic cause and seeing the passion the team put into their work was inspiring. This internship helped me develop the skills and experience necessary to find a job in the third sector. I'm really grateful to have been given such an opportunity.
Lorena is a Colombian lawyer who interned with ABColombia for seven months in 2014. She is currently working for a London-based charity that helps women victims of domestic and sexual violence and volunteers at an organisation that supports Latin American women in the UK.
Anna Tyor (Intern with ABColombia in 2015)
I've really enjoyed working with ABColombia as the Research and Communications Intern. I have been able to strengthen my researching skills and utilise my Spanish through investigating resources for reports on mining and on civil society. I've also been able to further my understanding of the role of NGOs in the UK governmental decision-making process by directly communicating with members of Parliament and the diplomatic community on behalf of ABColombia.