On 18 January 2022, Luz Marina Arteaga, a doctor, social leader and land-claimant was killed. This vibrant and active social leader's lifeless body was recovered from the River Meta in Orocué, Casanare, Colombia. As far back as 28 November 2019, ABColombia wrote to Pablo Elías González Monguí, Director General of the National Protection Unit (Unidad Nacional de Protección – UNP), when we requested that the UNP as a matter of urgency provide protection measures to human rights defender and social leader, Luz Marina Arteaga as she was receiving death threats and was in a precarious position as regards to her safety.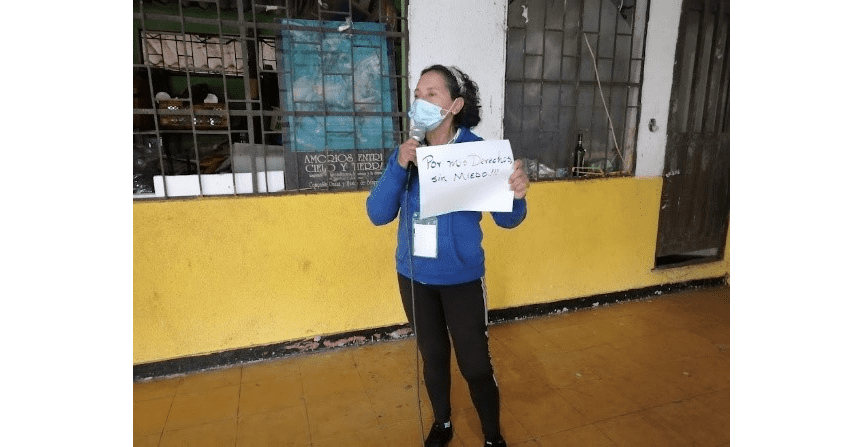 Luz Marina and her community in Matarratón are supported in their land claim by Claretian Corporation Norman Pérez Bello and the Yira Castro Legal Corporation. Who reported the killing of Luz Marina was a well-known and respected social leader whose work was making a real difference to the community.
Luz Marina disappeared on 12 January 2022 and despite the community's efforts to find her there was no trace of her. She had left Matarratón village, in Puerto Gaitán to go to the town of ​​Orocué. Luz Marina had received threats and had been concerned about her safety for some time. According to the Corporation Norman Pérez Bello, the National Protection Unit, had been asked to provide security measures but there had been no response.In August 2018, British Parliamentarians visited Matarraton in an effort to understand the complex situation of land. They found that the peasant farmer communities of Matarraton and the Indigenous Peoples despite the Land Restitution Law (2011) and the Peace Accord (2016) were facing a dangerous struggle to obtain their land rights.
ABColombia raised with the National Protection Unit the need for Protection Measures for Luz Marina in November 2019
ABColombia wrote on 28 November 2019, "the situation faced by the community leaders [in Matarraton, El Porvenir] has been aggravated by the lack of compliance with the order of the Constitutional Court SU 426 of August 11, 2016, of which Ms. Luz Marina Arteaga was one of the active leaders'. The Court's Order stated that provision should be made for the surrender of the land belonging to the communities which was in the hands of third parties. Even in 2019 when the ABColombia took a delegation of British Parliamentarians to meet Luz Marina and the other community leaders their land had still not been returned.
Parliamentarians Patrick Grady and Chris Bryant, on 14 June 2019, wrote to Rt Hon Sir Alan Duncan, the then Minister of State for Europe and the Americas at the British Foreign and Commonwealth Office, raising their concerns about the safety of Luz Marina Arteaga asking the Minister to issue a Joint Human Rights Statement with President Duque during his visit. This did not happen.
According to the Human Rights Ombudsman, Carlos Camargo, 145 social leaders were killed in Colombia in 2022, that's one social leader killed every 60 hours. The U.N. Office of the High Commissioner for Human Rights (OHCHR) said it received 202 reports human rights leaders killed in Colombia last year. Of these so far 78 have been confirmed, the verification process is ongoing.
ABColombia calls on the Colombian Government to
Quickly investigate the killing of Luz Marina Arteaga and bring those responsible to justice
Order the National Protection Unit (Unidad Nacional de Protección) to rapidly provide protection measures to the other social leaders in Matarratón