Colombia was the first country in the world to sign a Peace Accord which declared 'no amnesties' for conflict related sexual and gender-based violence. It is also the first country to prosecute in a national case in the Transitional Justice System, crimes of sexual and gender-based violence and crimes related to sexual orientation, and gender identity.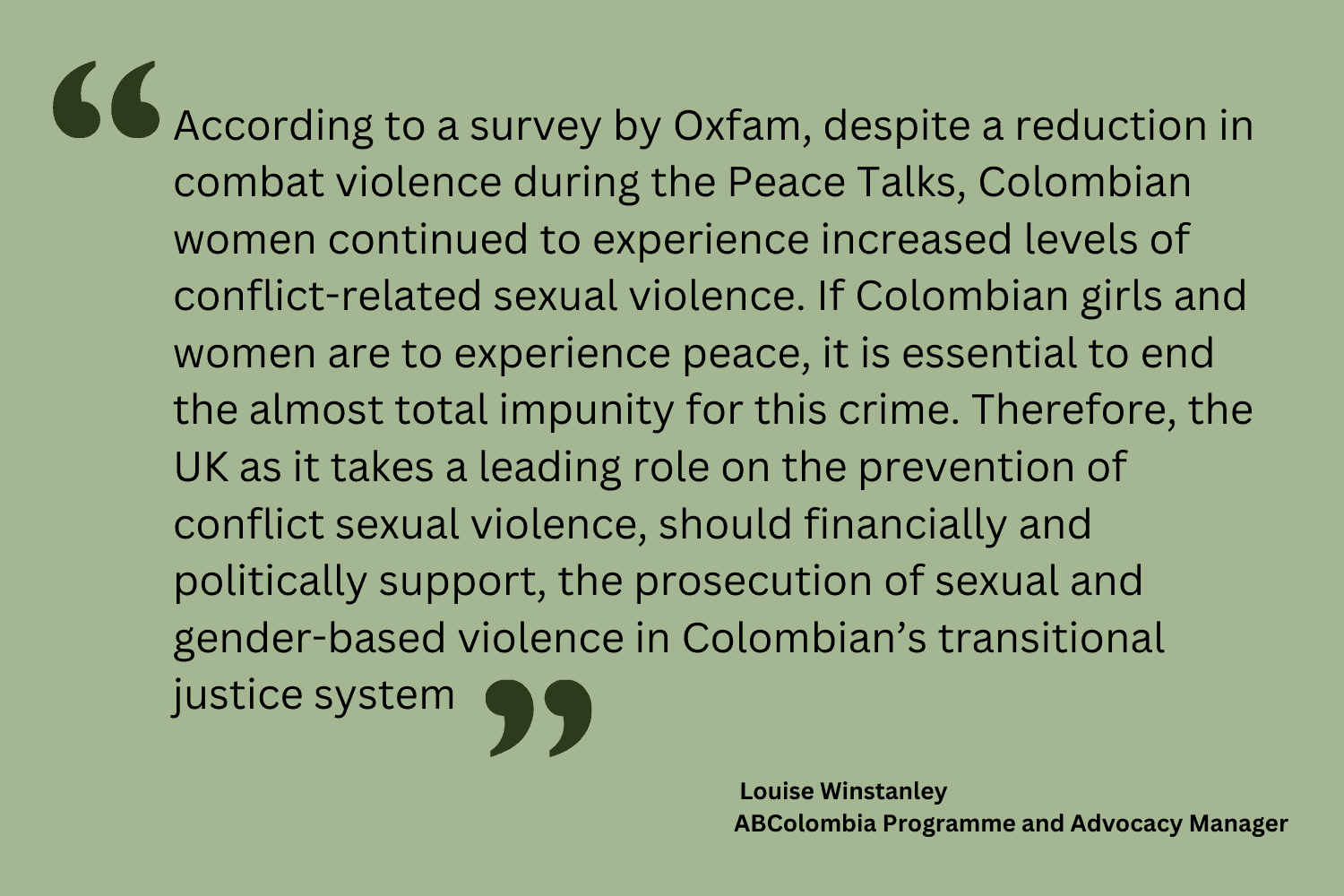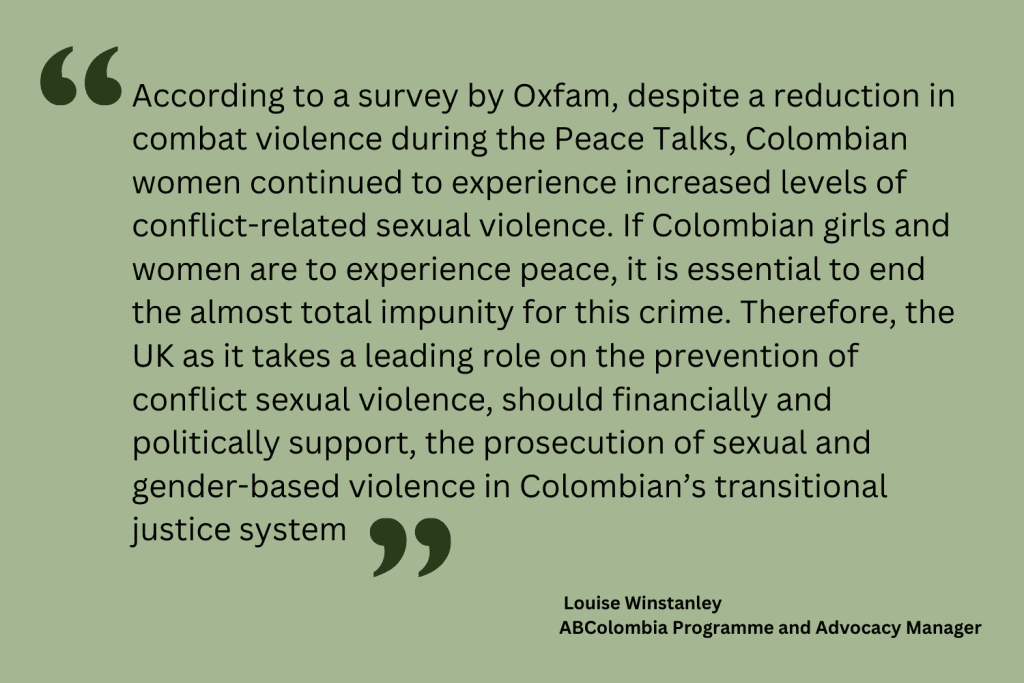 Approximately 18% of women report sexual violence in Colombia, and impunity gender-based crimes is over 90%. As a result, women victims of sexual violence harbour a sense of fear, powerlessness, frustration and insecurity. In addition to factors impacting on all women, indigenous and afro-Colombian women have to deal with a history of slavery and colonialism that has generated attitudes which condone violence against them. This coupled with racist perceptions including stereotypes about women's bodies has resulted in them experiencing even higher rates of violence.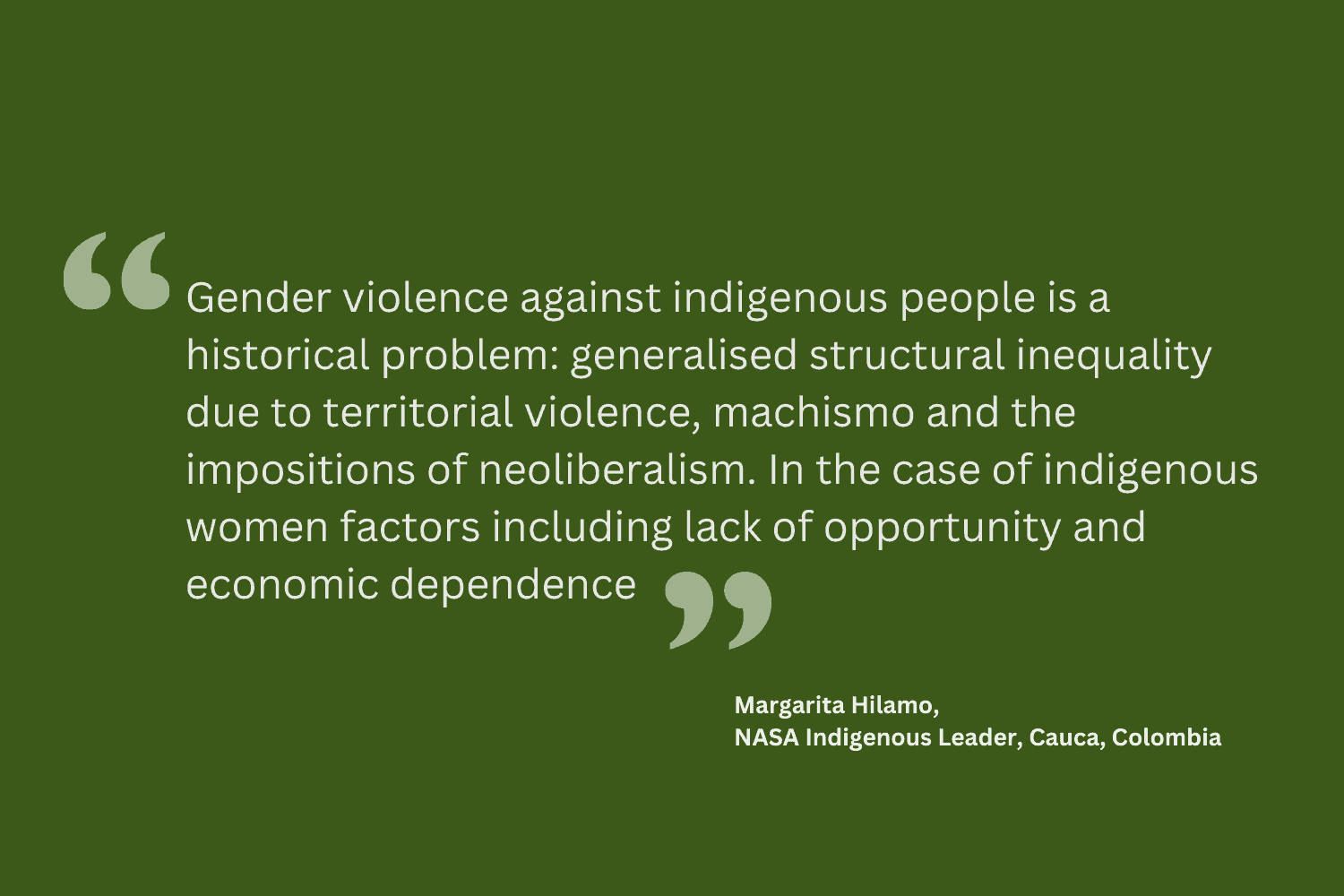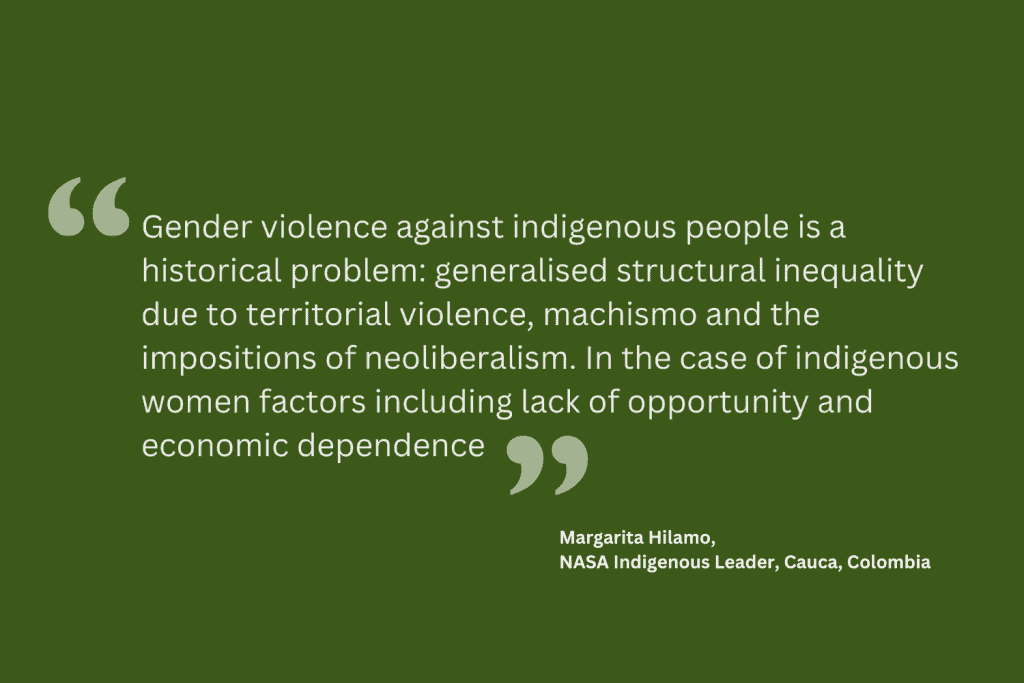 Along with conflict generating unprecedented levels of sexual violence is a lack of state presence, particularly in the rural areas, and forced displacement, which not only leads to high indices of poverty, but also threatens indigenous people's cultural survival. The Constitutional Court declared 34 Indigenous Communities at risk of physical or cultural extinction.
The presence of armed (legal and ilegal) exacerbates both the perception of risk, and the risk, of being a victim of sexual or gender-based violence in the public and private spheres. The militaristic culture and patriarchal attitudes that accompany armed actors intensifies the vulnerability and threat of sexual violence for girls and women. Not only by combatants but also in the domestic sphere. Margarita HIlamo and other Nasa Indigenous women for years, at the risk to their own lives, have protested against the militarisation of their territory. Cauca is one of the regions of Colombia most affected by the presence of armed groups, and sexual violence cases because of this continued armed presence have been massively underreported. The Colombian Truth Commission's Report, published in June 2022, documented over 10,864 testimonies from women, from which it was possible to establish historical structural discrimination related to the violence experienced by black and indigenous communities.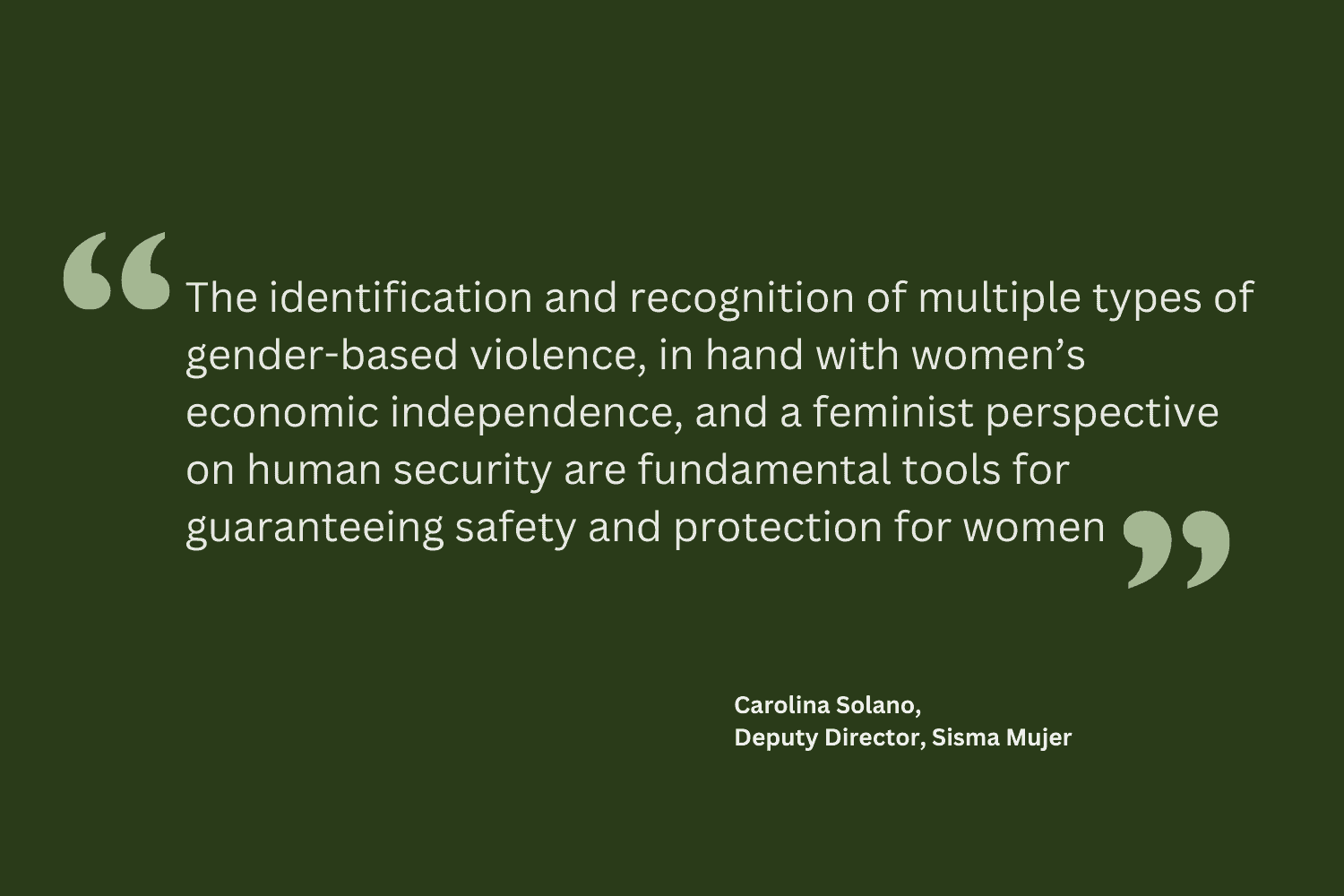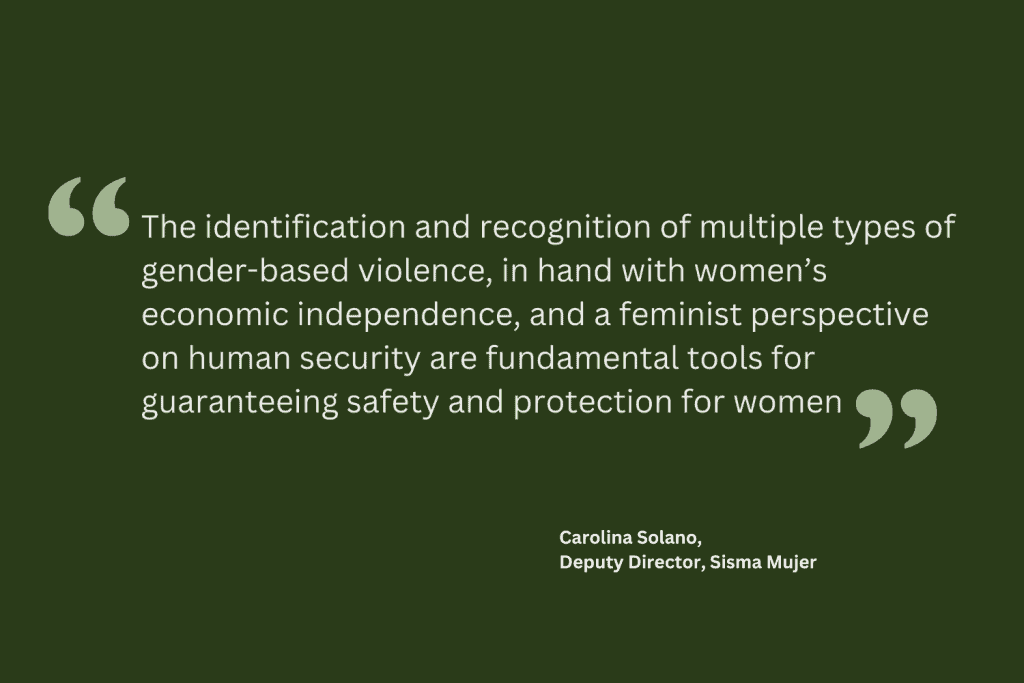 The use of sexual and gender-based violence to punish and silence girls and women is still prevalent in Colombia. In April 2021 during the massive social protests, according to the Colombian Ombudsman, there were 113 actions of gender-based violence perpetrated against girls, women and the LGBTI community, 112 of which were allegedly committed by the Police. Sexual and gender-based violence happens both in the conflict and outside of it, therefore ending the internal conflict will not automatically bring peace for Colombian women. It is essential to address masochistic and patriarchal attitudes, structural impunity, inequality and poverty, and structural racism.
Carolina Solano, Margarita Hilamo and Lizeth Trejos are in the UK to discuss innovative strategies that will promote greater safety and protection for girls and women in Colombia and to attend the International Ministerial Conference on Preventing Sexual Violence in Conflict Initiative 2022
Background
ABColombia has invited three human rights defenders to the UK to attend the international conference: Nasa Indigenous leader, Margarita Hilamo, Lawyer specialising in PSVI, Carolina Solano and Lizeth Trejos, CODACOP coordinator of the Observatory of Human Rights and Violence against Women of the Association of Indigenous Councils of Northern Cauca.
About
Sisma Mujer has worked extensively on improving Colombian public policies on women. A major part of their work has been in relation to women victims of GBV and sexual violence, their access to justice and reparation and psycho-social support. Some of their achievements include contributing to the creation of national legislation on violence against women; the development of public policies for women in situations of forced displacement; and participation in legislative and constitutional reforms of the electoral system to create greater access for women.
TheAssociation of Indigenous Cabildos from Northern Cauca (Cxab Wala Kiwe) – Tejida Mujer. The Tejida Mujer works in defence of indigenous women's rights and territorial rights. Northern Cauca region is historically strategic and contested by all sides in the armed conflict. The control of the drugs and armed trafficking corridors between guerrilla and paramilitary groups, and the land grabbing behind sugar cane and paper industries, triggered displacement. As a result, Indigenous communities have been victims of violence and land dispossession, undermining their autonomy, culture and survival
ABColombia is the advocacy project of a group of five leading UK and Irish organisations with programmes in Colombia: CAFOD, Christian Aid UKI, Oxfam GB, SCIAF and Trócaire. Amnesty International and Peace Brigades International are observers. ABColombia's report 'Colombia: Women, Conflict-related Sexual Violence and the Peace Process' can be downloaded in English from their website: www.abcolombia.org.uk.