There is an urgent need to mitigate the climate crisis, but this has to be done as a just transition towards clean energy and it cannot require the global south to carry the costs of this transition. The current Colombian Government's ambitious agenda to move away from fossil fuels and to invest heavily in renewable energy will not necessarily address the issue of human and environmental rights violations. Therefore it is essential that the Colombian Government ensures that the legislation protecting human and environmental rights is fully implemented and robustly monitored.
The Business and Human Rights Resource Centre (BHRRC) has developed a series of benchmarks to measure the human rights impacts of renewable energy companies. These benchmarks identify policies designed to ensure human and environmental rights are upheld. In applying these to clean energy companies, they discovered that companies were failing dramatically to put in place policies that would help to prevent human and environmental rights violations. If this continues then renewable energy companies will only further exacerbate conflict and environmental damage and ultimately prove to be unsustainable.
President Gustavo Petro and Vice-President Francia Marquez entered office on an electoral ticket that supported transition from fossil fuels to Green Energy, as part of this policy move they made commitments to stop issuing any new fossil fuel contracts. This decision has proved controversial, given that Colombia currently produces around 1% of the world's coal, oil and gas.
The government plans to establish a National Institute for Clean Energies, to generate and sell carbon credits for greenhouse gas emissions, these would be avoided by leaving fossil fuels in the ground, and for protecting the Amazon from deforestation. As oil and coal exports are Colombia's largest source of foreign currency and there are fears as to how this might impact the economy. Petro's plan is to diversify the economy. However, part of this diversification includes increasing agricultural exports, this is an area he will have to monitor carefully as Latin American countries that have relied on the exports of agro-based commodities and/or fossil fuels, have seen increased vulnerability of their productive structures as a result of climate change and its mitigation. Nevertheless, these policies will go a long way to fulfilling Colombia's international commitments to climate change, protection of the environment and biodiversity, as well as, assisting globally in the reduction of greenhouse gasses.
Some of the driving factors behind these policies include the recognition of the immeasurable damage that mining companies have had on human rights and the environmental (mainly Indigenous, Afro-Colombian and peasant farmer communities), these include rights to free prior and informed consent, environmental rights (pollution of water, air, and soil), ecological damage to paramos, and land rights, as verified by a variety of Constitutional Court decisions.
In the last 10 years, BHRRC reports receiving over 200 allegations of serious human rights violations linked to renewable energy projects, 44% of which are related to the wind and solar energy sectors. These violations include land and water grabs, Indigenous Peoples rights, and workers' rights. In 2021, every Renewable Energy company BHRRC measured scored 0 on their commitment to respect human and environmental rights defenders and to explicitly respect land rights or identify legitimate tenure rights holders within their operations. On average, renewable energy companies scored 28% when measured against BHRRC human rights benchmarks.
Transitioning to renewables does not mean that the companies that provide the energy hold the same values as those who buy this energy. It is therefore essential to ensure that these companies are not violating human and environmental rights in their production of renewable energy. Renewable energy will still require mineral resources.
Latin America and the Caribbean (LAC) region hold two-thirds of global lithium reserves and over 40 percent of global copper reserves as well as substantial amounts of nickel and cobalt, all these minerals are essential for clean energy technology. A recent report published by the International Energy Agency states that, 'meeting the Paris agreement's climate targets would send demand skyrocketing for the "critical minerals" used to produce clean energy technologies. The figures are particularly dramatic for the raw materials used to manufacture electric vehicles: by 2040, the IEA forecasts that demand for lithium will have increased 42 times relative to 2020 levels'. The report goes on to say that a fourfold increase in copper, lithium, nickel, and cobalt will be required between 2020 to 2040.
According to UNCTAD, between 2015-2019, 42% of all LAC countries were export commodity dependent, Colombia was one of these, based on its exports of petroleum oils, oils from bitumen materials, and crude. The resource curse linked to fossil fuels that has plagued LAC economies historically is essential to avoid at all costs as countries transition to renewables.
The Petro Government is developing policies to transition the country from fossil fuels to renewable energy, "solar, wind and water". In laying down the foundation for energy transition, he highlights La Guajira as the epicentre for renewable energy. This department has certain advantages in relation to these natural resources, according to the Ministry of Mines and Energy, the wind speed is twice the world average and solar radiation can be up to 60% higher than in other parts of the world.
However, this part of Colombia is territory of the Wayuu Indigenous and Afro-Colombian Communities, several Wayuu and Afro-Colombian communities have been displaced and/or subjected to severe environmental and human rights impacts, due to having one of the largest open pit coal mines in the world – Cerrejón on their territory.[1] Despite 30+ years of intensive extraction of coal in la Guajira it remains one of two of the poorest departments in the country, Choco being the other.
There are over 200 indigenous and Afro-Colombian Communities living in Alta y Media Guajira (high and middle Guajira) where there are plans for large wind and solar farms. The Afro-Colombian and Wayuu Indigenous Peoples have been warning us for several years that they are concerned about the plans for solar and wind power in their territory as it brings with it the possibility of violations of their rights and that of their territory.
The renewable energy projects in La Guajira are extensive, with plans for 16 parks and connecting infrastructure by 2025. The infrastructure project 'Colectora' is being undertaken by 'Group Energía Bogotá' (GEB), the infrastructure will distribute the energy from seven of the wind parks owned by Enel, EPM and Jemeiwaa Ka'l. This involves the construction of two transmission lines, a new substation in the community of Masharrerain and the expansion of two others. There are 233 communities with which prior consultation and consent processes are required and an analysis of the environmental impacts before an Environmental Licence can be issued to the 'Colectora' project. Although these are being carried out by various companies, Indepaz reports, that there is a lack of participation by local communities in some of the consultation processes. Furthermore, despite a Constitutional Court ruling that communities have the right to have external advice in these processes, José Vega, a researcher at the Stockholm Environmental Institute (SEI) reports that in practice this often does not happen, resulting in a lack of information for the communities to "be able to discern the impacts of a project or negotiate possible compensation packages".
The Petro Government is proposing to adopt a new model of exploitation that will include "mixed ownership" arrangements with the Wayuu Indigenous communities, Afro-Colombian Councils and coal mining workers. Whether this will protect the Indigenous and Afro-Colombian sacred spaces, cultural practice, rights, and cosmovision has yet to be seen. Whilst it appears to be a policy intent on addressing some of the inequality and injustices, it does not address power asymmetry which leaves indigenous and Afro-Colombian communities at a major disadvantaged.
For community leaders seeking to uphold the rights of the communities in this context there are additional concerns. According to the United Nations, 116 social leaders and human rights defenders were killed (71 reportedly by the security forces), and there were 92 massacres in 2022 in Colombia.
Justice and equity must be seen as cross-cutting issues in every aspect of energy transition. As Colombia seeks to transition to peace, renewable energy companies must not repeat the systemic rights violations of extractive companies that have only exacerbated social conflict, inequality and poverty. Investors and supply chain purchasers have a responsibility to ensure that the renewable energy field is implementing robustly human and environmental rights policies. It is essential that renewable energy projects take a different path to that of fossil fuels, and that they ensure justice and promote equality, redistribution of resources, and increased access to services.
Abusive business models, and the loss of trust they generate, put at risk the much-needed energy transition our futures depend on" Mary Robinson, Adjunct Professor for Climate Justice, Trinity College Dublin; Chair of The Elders; Former High Commissioner for Human Rights; Former President of Ireland
Colombian Governments decision to stop issuing new fossil fuel extraction contracts, could give Colombia time to diversify its economy and help to prevent dependency. However, moving from fossil fuel extractions to minerals for renewable energy, especially given that renewal energy companies are failing dramatically to respect human and environmental rights, land rights, labour rights, and human and environmental defenders doesn't bode well for a country trying to exit a conflict and build peace.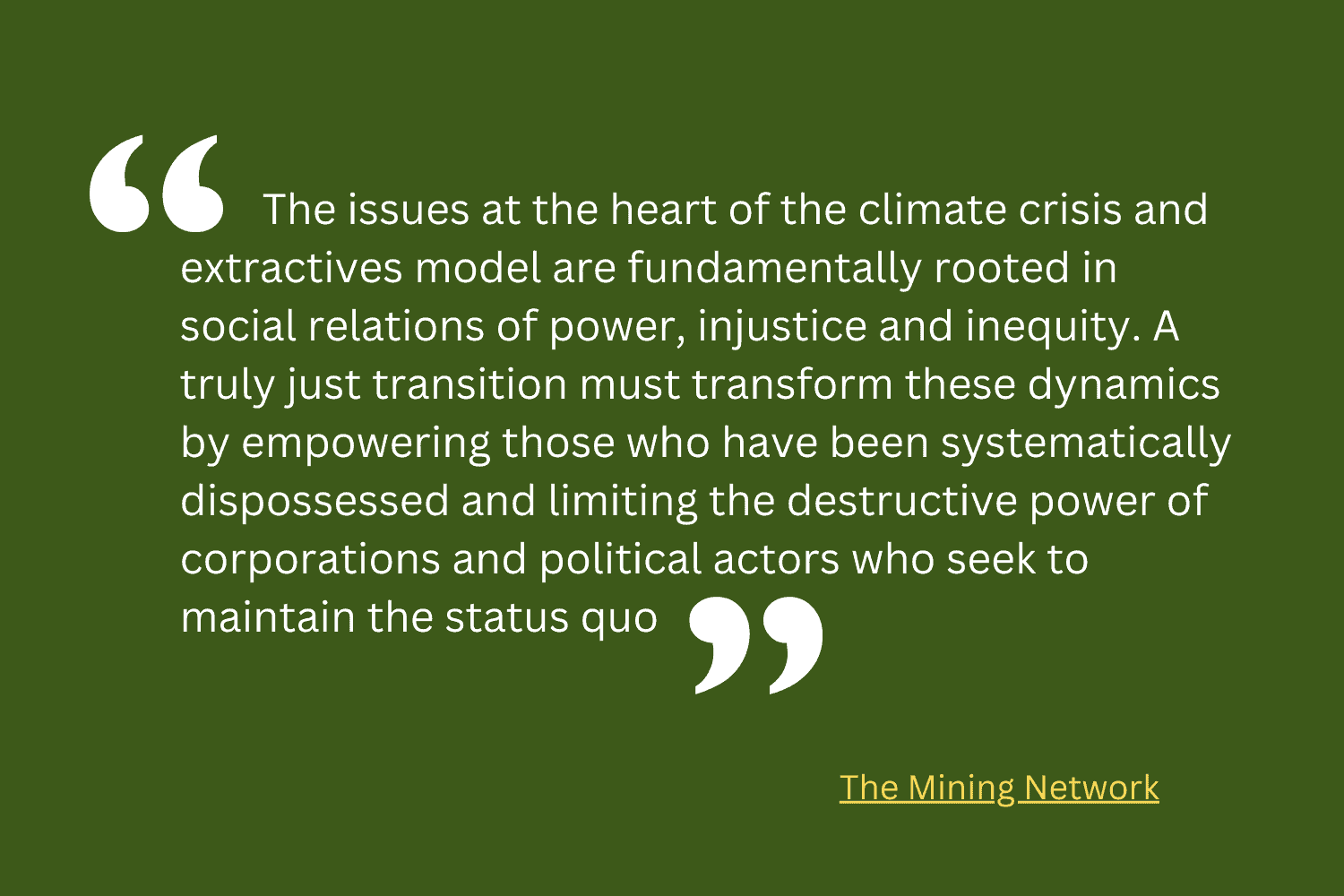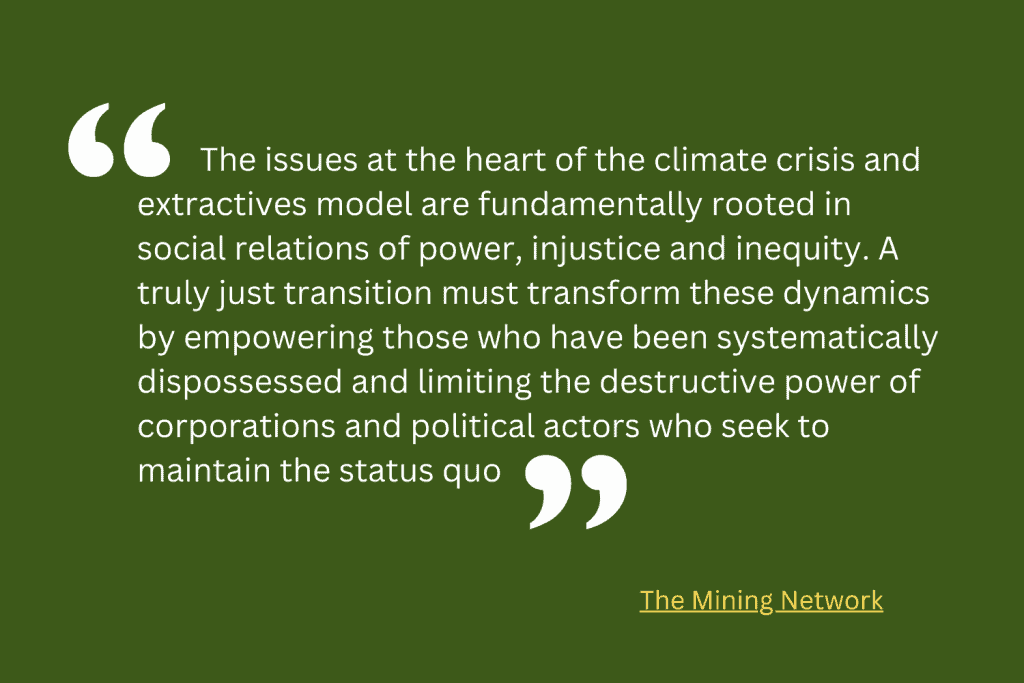 ---
[1] There are various rulings from both the Constitutional Court and other Courts in relation to Cerrejon's mining activities that refer to the violation of the fundamental rights of the Wayuu and Afro-Colombian peoples by Cerrejón, including the right to water, as well as related rights to health, food, a healthy environment, prior consultation and decent living conditions: T614/2019 (health, life and personal integrity, healthy environment and privacy); SU 698/2017 (water in all of its aspects: accessibility, availability and quality; health; food security); T-704 of 2016 (prior consultation, environmental management, violation of the fundamental rights as a consequence of air pollution, water and health) T-256/2015 (water).