In a strong statement from Great Britain to Colombia, Minister for the Americas and the Caribbean, David Rutley, reiterates the UK's commitment to supporting peace in Colombia through the full implementation of the Peace Accord with the FARC, at the UN Security Council meeting on Colombia.[i]
On 11 January 2023, the United Nations Security Council approved the expansion of the mandate of the UN Verification Mission in Colombia to include progress on the implementation of the rural reform and ethnic chapters of the Peace Accord in its verification tasks.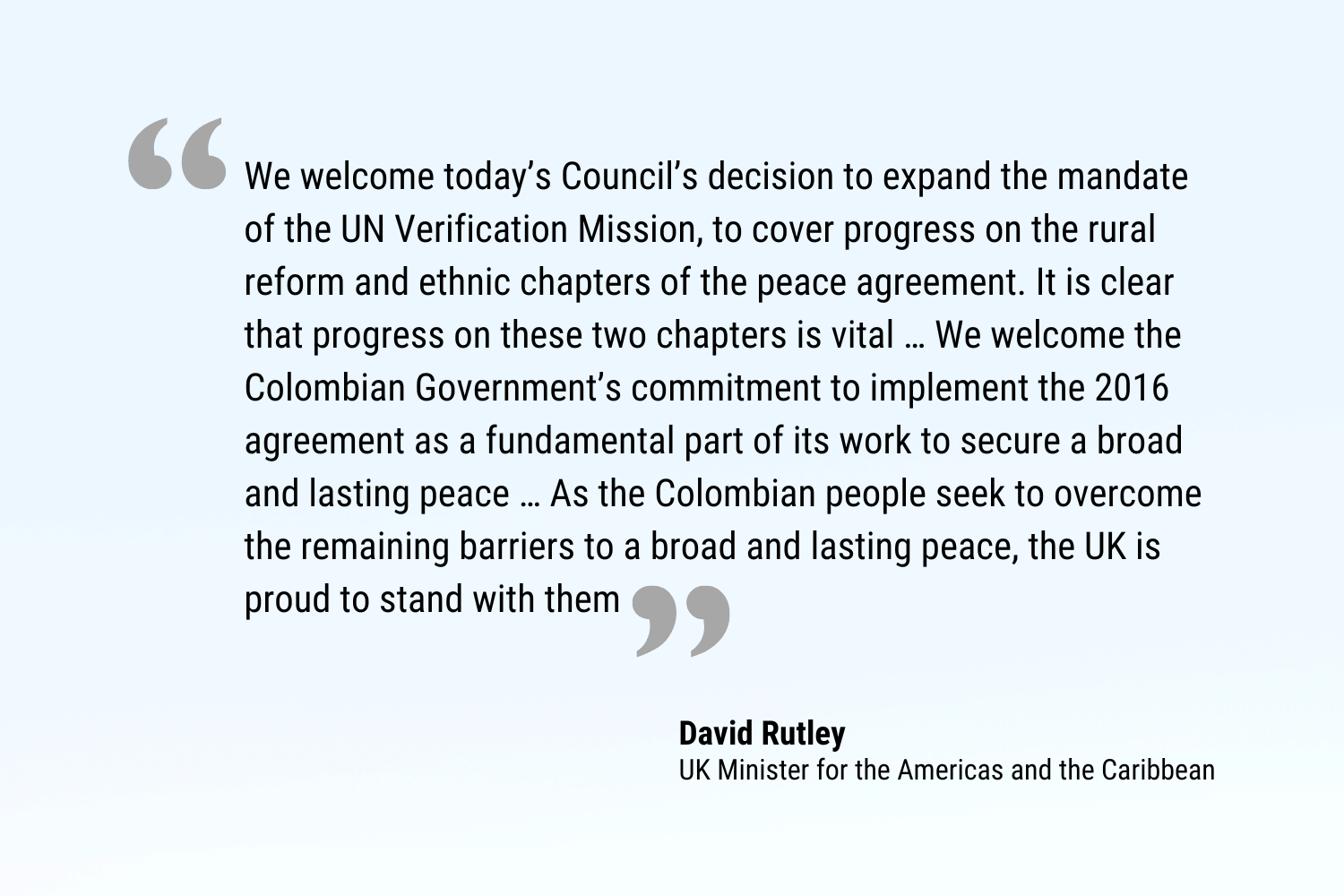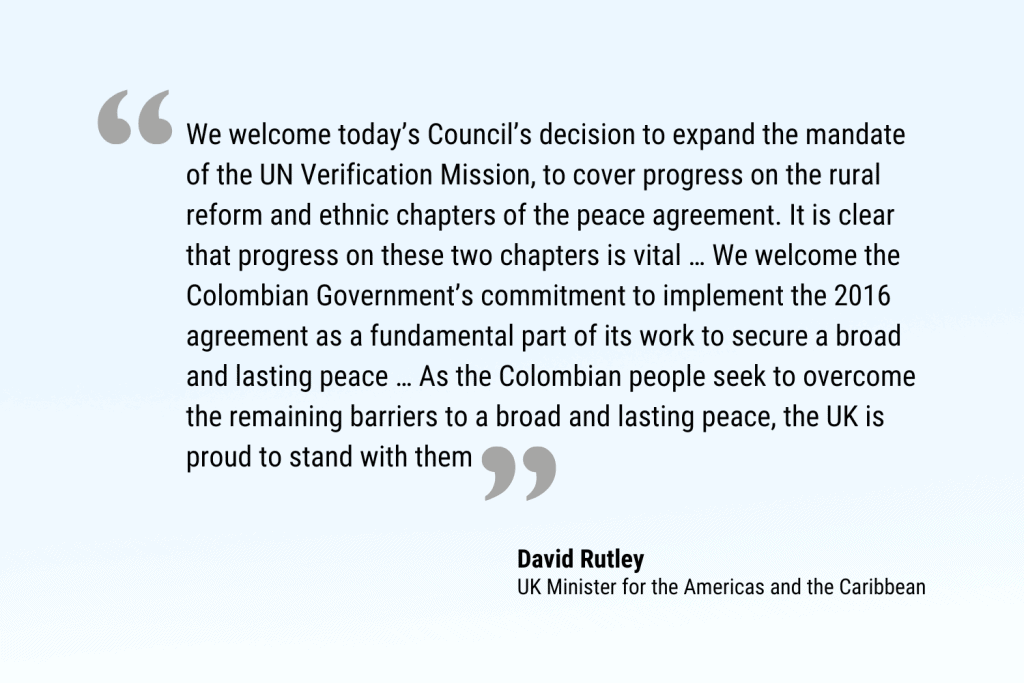 The additions to the mandate were jointly requested by the Government of Colombia and the former Revolutionary Armed Forces of Colombia (FARC), in a letter from the Minister for Foreign Affairs of Colombia, Alvaro Leyla Durán, who highlighted the "structural relevance" of the rural reform and ethical chapter for resolving the conflict and building stable and lasting peace in Colombia.
The decision to expand the Verification Mission's mandate was also welcomed by the Head of the UN Verification Mission in Colombia, Carlos Ruiz Massieu, who believes this step will make a significant contribution to peace in Colombia.
… the Mission would,… [apply] its resources to aspects that are vital for peace consolidation in the near and medium term and that can inform priority-setting by the Government and other national and international actors.
Letter dated 9 December 2022 from the Secretary-General addressed to the President of the Security Council
Since its establishment, the Verification Mission has worked with an approach that consists in flagging areas where improvements can be made on high-impact and strategic issues and offering recommendations. With the inclusion of sections 1 ("comprehensive rural reform") and 6.2 (entitled "Ethnic perspectives") of the Accord in the verification process the approach will maintain the same approach.
Given the disproportionate toll of the armed conflict on the Colombian ethnic communities and territories and the impact of the rural underdevelopment that has been intrinsic in the Colombian armed conflict throughout its history, ABColombia believes that the inclusion of these two areas the Verification Mission's mandate is an important step that can support Civil Society Organizations, communities, and the Colombia Government's recent actions to move forward with the full implementation of Peace Accord.
---
[i] The United Kingdom acts as penholder for the Colombian peace process at the UN Security Council, and supports the work the UN Verification Mission does to monitor the progress made following the 2016 Peace agreement between the Government of Colombia and the former Revolutionary Armed Forces of Colombia (FARC)