---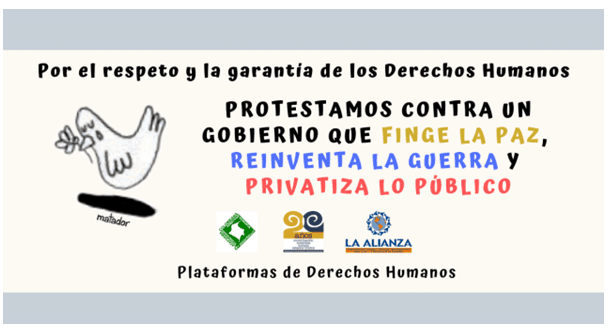 In the lead up to the National Strick (Paro Nacional) over 500 organisations which form part of La Alianza, the Coordination Colombia, Europe, United States (CCEEU), the Colombian Platform for Human Rights, Democracy and Development and the Rural, Ethnic and Popular Agrarian Summit explained what they saw as the key reasons for the National Strike. Below is a summary of the key points made in the Spanish Statement.
They were protesting about regressive measures taken by President Iván Duque Marquez's Government, in matters of peace building and human rights.
Highlighting the following points:
The lack of political will on the part of the Colombian Government to implement the Peace Accord signed by the State with the FARC-EP. Their concerns centred on the Duque's government attacks on the institutions of the Transitional Justice System (SIVJRNR) and the lack of resources allocated for its implementation in the National Development Plan 2018-2022. As well as, the lack of a rights-based approach, especially in relation to economic, social, and cultural rights and gender, in the National Development Plan.
Profound concerns surround the security and defense policy – entitled Democratic Security, which is based on themilitarisation of communities territory, the recent appointment of high level commanders that perpetuate the logic of the "internal enemy." As well as a military doctrine that infringes International Humanitarian Law (IHL) as a result of promoting operational results at any cost, and stigmatization of indigenous and Afro descendant peoples and peasant communities.
Repressive government policies to the legitimate demands of rural communities and students, as well as, abuses in the use of force by ESMAD
The lack of guarantees for the defence of human rights, the killings and criminalization of human rights defenders. Ignoring CSOs proposals for protection measures and instead using the situation as an excuse to militarize communities' territories.
Labor and pension reforms which are likely to lead to even more precarious employment. Legalising part-time work and social security contributions below the minimum wage.
Failure to comply with the recommendations of the various international human rights protection mechanisms of the UN and the Inter-American System, and failure to issue official invitations to UN Special Rapporteurs despite repeated requests.