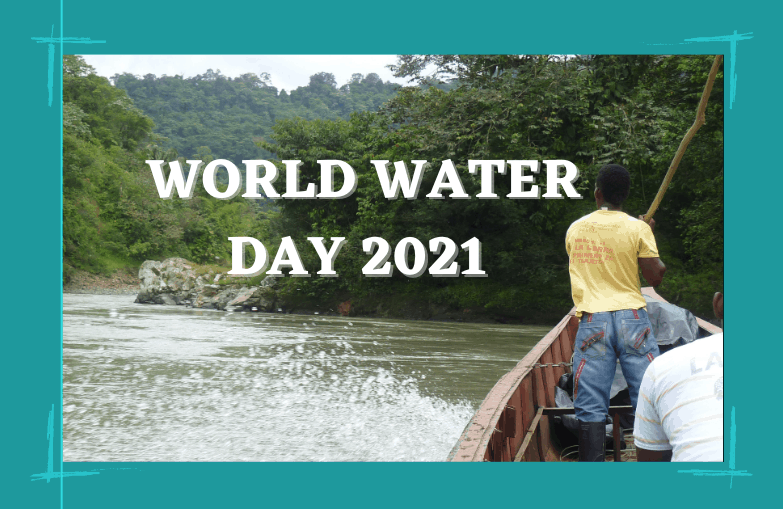 The UN theme of World Water Day 2021 is valuing water.
Without a comprehensive understanding of water's true, multidimensional value, we will be unable to safeguard this critical resource for the benefit of everyone." (UN Water) 
But what is the "value" of water? What does it represent?
On the surface, Colombia has vast water resources; it is one of the most biodiverse regions in the world – containing lakes, streams, rivers and Andean grasslands – while experiencing roughly three times the global average of rainfall per country. However, this does not translate into equal access to water throughout the country, in rural areas one in four people in Colombia do not have access to clean drinking water. Water insecurity can lead to food insecurity, child malnutrition and consequent displacement of whole communities.
As a critical source for the health of humans and ecosystems alike, water is symbolic of survival itself. For many indigenous and Afro-descendant communities in Colombia and beyond, water – in the form of rivers and their tributaries – is crucial not only for domestic, recreational and farming activities, but also due to its cultural and spiritual value within the community. Serving as "the crucial link between the climate system, human society and the environment", UN Water recognises that water is a key factor in managing risks such as famine, epidemics and inequalities. Indeed the governance of water – concerning the provision of water access and protection of natural water sources – can tap into existing structural inequalities within a country, resulting in uneven distribution, only exacerbated by natural climatic shifts.  
This article will visit two regions of Colombia – Chocó and La Guajira – and the courageous work of communities impacted by the closely linked experiences of water insecurity and water exploitation.
COVID-19 pandemic: exacerbating pre-existing inequalities
The global experience of the COVID-19 pandemic has highlighted the critical importance of adequate access to clean water for the prevention and containment of diseases. Put simply: "hand hygiene saves lives".  
Constraints on water service providers as a result of the pandemic have been particularly felt by marginalised communities in Colombia, whose water supply was already severely impacted – by climatic conditions, but also by mining activities which had cut off natural sources. As a result, communities have become dependent on water handouts from companies, in turn increasing their exposure and risk of contracting the virus. 
Instead of having access to clean water from the main rivers and tributaries, water is having to be manually distributed to communities in self-isolation … Indigenous and Afro-Colombian communities face this pandemic without water, without food and without the minimum guarantees for subsistence. A pre-existent humanitarian crisis has been exacerbated by COVID-19. " (ABColombia April 2020 press release) 
Challenges to water security in Colombia
Regions such as the Guajira Peninsula, in northeast Colombia, experience high levels of aridity and contain one of the country's largest water deficits, rendering it prone to droughts. The Colombian government's Institute of Hydrology, Meteorology, and Environmental Studies (IDEAM) has also classified La Guajira as a region vulnerable to the effects of climate change, foreseeing a further increase in temperatures alongside the reduction of rainfall in future. 
Currently, President Iván Duque's government has introduced the "Guajira Azul" program, which includes plans to bring fresh clean drinking water and basic sanitation to the area; two goals that form a part of the sixth UN Sustainable Development Goal of access to clean water and sanitation. It forms a part of a larger social initiative for the peninsula, administered by Colombia's Housing Ministry. But the communities are still waiting on promises.
It is within this context in La Guajira that the Cerrejón open pit coal mine – jointly owned by British-registered multinational giants BHP, Anglo American and Glencore – has operated since 1985. Communities have seen over three decades of exploitation as a result of this ever-expanding mine, which generates millions of pounds and allegedly polluted their rivers. 
In recent years, ABColombia has expressed grave concern at the environmental and human rights damages associated with mining activities in the region; in January 2021 a joint complaint was submitted to the Organisation for Economic Cooperation and Development (OECD). (See full complaint document here). 
The document notes the impact on the Ranchería River that flows right beside the mine; as the principal waterway in the region, many communities – such as the indigenous Wayuu and Afro-Colombian Chancleta – once relied upon this river for domestic and farming activities. However, the Cerrejón mining activities have altered the natural course of the river, by diverting one of its important tributaries, the Bruno River. 
Cerrejón's diversion, consumption, and contamination of water has led to water scarcity, food scarcity, and health impacts for those who live in La Guajira." (ABColombia et al joint complaint to OECD) 
Lack of action on behalf of the State; communities turn to the Courts
Members from El Rocio, an indigenous community dependent on the Bruno river, have long attempted to resist the damaging diversion of its natural course, taking legal action in 2016 to Colombia's Constitutional Court. The Court ordered that all works to divert the river had to stop, followed by a full detailed text published in June 2019 ordering that the communities must participate in all decision making processes concerning the mine's expansion. However, despite the case being in the Court and the strong and deeply-held communities' objections, by 2019 the company had already proceeded to dam the Bruno river and alter its natural course.
ABColombia has repeatedly expressed profound concerns regarding Cerrejon's lack of compliance with rulings from the Colombian Constitutional Court. 
Coal is not a human right, we can live without the exploitation of coal, but we cannot live without water and culture." (Luis Misael Socarras, Fuerza de Mujeres Wayuu)
Chocó
Communities like those around Cerrejón constantly struggle to protect water and the environment. In Chocó – one of the top 10 biodiversity hotspots in the world, on the West Colombian coast – Afro-Colombian and Indigenous communities also took matters to the Court, in which they won a landmark decision in favour of the protection of the surrounding forests and tributaries of the Atrato River.
In 2017 the Colombian Constitutional Court adopted a landmark ruling and took an unprecedented ecocentric approach to human rights: the judges recognised Colombia's Atrato River as a legal entity with environmental rights that need to be protected alongside the communities' bio-cultural rights. Thus, the Court acknowledged the inherent interdependency between the environment and communities in the Atrato region. While taking account of "the environmental and social realities of the nation", the Court ordered the Government to take a series of measures to protect the Atrato River and combat illegal mining in the region. The Court also reiterated once again the right to free, prior and informed consent for ethnic communities.
This global precedent was achieved by the communities themselves, together with the Interethnic Solidarity Forum of Choco (FISCH) and Tierra Digna, who submitted evidence to the courts regarding the massive and systemic violations of the fundamental rights of communities. Four years later, the communities still need our help and support to see the ruling enacted.
Hear directly from one of the then Tierra Digna Lawyers, Ximena Gonzalez, and Afro-Colombian community leader, Bernadino, here.
Water security must be included in territorial development
While ABColombia celebrates the communities' courageous efforts in seeking their own protection from the Courts, more cohesive action is required by the State in implementing water-related programmes and protection for communities. A further challenge in this context, however, is the institutional challenges faced in not only implementing but, crucially, maintaining such projects.
Local officials, often working at great personal risk in regions where armed conflict has gravely harmed water resources … efforts have often fallen victim to entangled decision-making powers, overlap, gaps in responsibilities, lack of capacity, and strong lobbying from powerful stakeholders. The result is continued hobbling of water-related investments" (World Bank 2020 Report)
As a means to overcome these challenges, water security investments must be considered a key component in Colombia's Territorially Focused Development Plans (PDETs).
Incorporating [water security] investments in territorial development will reduce … the number of internally displaced people … It will also promote peace and security." (World Bank)
The full implementation of the PDETs – accompanied with institutional cooperation, adequate funding and monitoring – is paramount to move towards improving water security for communities in Colombia.