---
On 21 November 2019, Colombian citizens, trade unions, students, indigenous groups, peace activists, women's rights, environmental and other civil society organisations (CSOs), from across Colombia, took to the streets in the Paro Nacional (National Strike). According to the police they numbered around 207,000 people, however the March organisers put the figure closer to half a million. Initially the National Strike was planned for one day #paronacional21nov but it as of 10 December 2019 it was ongoing.
The National Strike, the first in three years, was initially called by trade unions to protest the proposed labour and pension reforms. It was then joined by a wide range of organisations with diverse agendas. Uniting these different groups were serious concerns regarding the policies and lack of implementation of the Peace Accord by Ivan Duque Marquez's goverenment, and a desire for inclusive policies (political, economic and social), real and sustainable peace, honest dialogue and respect for human rights.
Confidence in the Duque government is weak and declining. This was evident in the local elections in October 2019 where there was a shift away from electing the Centro Democratico ruling political party's candidates into key positions [1]. This discontent was picked up by a recent Gallup Poll where 70 per cent of those questioned believed things were getting worse under Duque, 85% that insecurity has deteriorated, others categories that had worsened were, 88% unemployment, 83% corruption and 77% economy whilst 85% said that the cost of living had increased.
The reform package proposed by the Duque Government which included labour and pension changes, led to over 40 trade unions initially calling for a national strike in November. These reforms can only increase poverty and worsen working conditions, as the proposals include changes to the law to allow hourly contracts, reduction in the hourly rate of pay for Students under 25 to below the minimum wage, and privatisation of pensions.
Why did the Indigenous Peoples join the Paro Nacional?
The National Organisation of Indigenous Peoples (ONIC) joined the Paro Nacional to protest the numerous assassinations of indigenous peoples across Colombia.
According to the UN Office of the High Commissioner for Human Rights, 52 Nasa Indigenous Peoples, in just one department of Colombia – Valle de Cauca, have been killed between January-October 2019, 11 of those were human rights defenders; wheras INDEPAZ (Colombian Think Tank) but the figure at 88 killed. In addition since Duque came to office in August 2018 135 Indigneous Peoples across Colombia have been killed according to ONIC.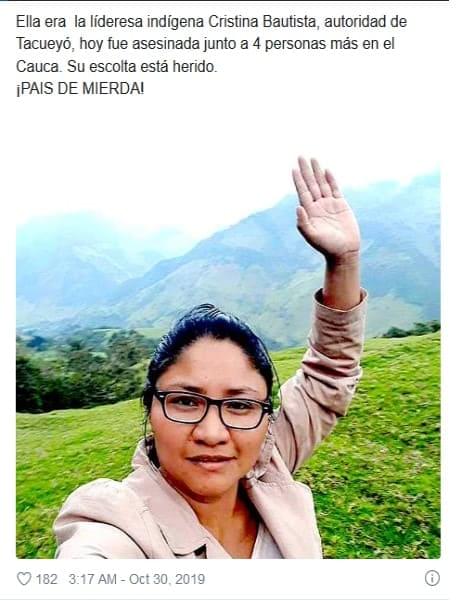 '…genocide is being committed against Indigenous peoples'

Luis Fernando Arias, High Commissioner for ONIC


Cristina Bautista was the Indigenous Governor of the resguardo Tacueyó, she recently spoke about the repression of Indingeous Peoples and the killing of Indingeous leaders at the UN in Geneva. To see the video click on her photo above.
Security Forces and Citizens Injured during the National Strike
According to CCJ as of 27 November, at least 341 Public Security Forces had been wounded, 232 of hospitalised. According to the " Defender la Libertad" campaign, 831 recorded detentions during the demonstrations. According to the Ministry of Health between 21 and 23 November, 351 protesters were injured. One of the monitors of the protest for the Inspector General's Office reported that he had seen ESMAD (the riot police) fire tear gas into the crowd of peaceful protesters, with families present, in the Plaza de Bolivar.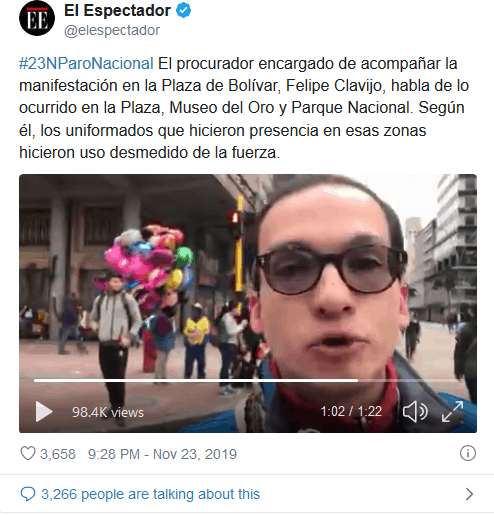 Death of a Young Peaceful Protester
Sadly, the protest saw the death of Dilan Cruz, allegedly, as a result of excessive use of force by ESMAD. Dilan was a 16 years old student, exercising his right to peacefully protest in support of, and to promote change, he was injured by ESMAD who shot directly at him (something prohibited in Colombia's Action Protocols), and died due to the brain injury caused. According to CCJ the type of ammunition used by ESMAD, although not lethal, cannot be shot at the head. Colombia only permits these bullets to be used in extreme cases of disorder and from the chest down. Videos ciculating on Twitter show that the situation in which Dilan died was not one of extreme disorder. In fact, according to Semana, it was a peaceful protest. Some allege that the bullet used by ESMAD was altered making it more aggressive. According to Semana this is not unusual as there are dozens of proceedings against ESMAD for alleged use of weapons that are irregular i.e. deliberately altered to make them more agressive in their impact. ESMAD has been accused of excessive use of violence on many occcassions, as a result CSOs are calling for it to be disbanded.
Dilan Cruz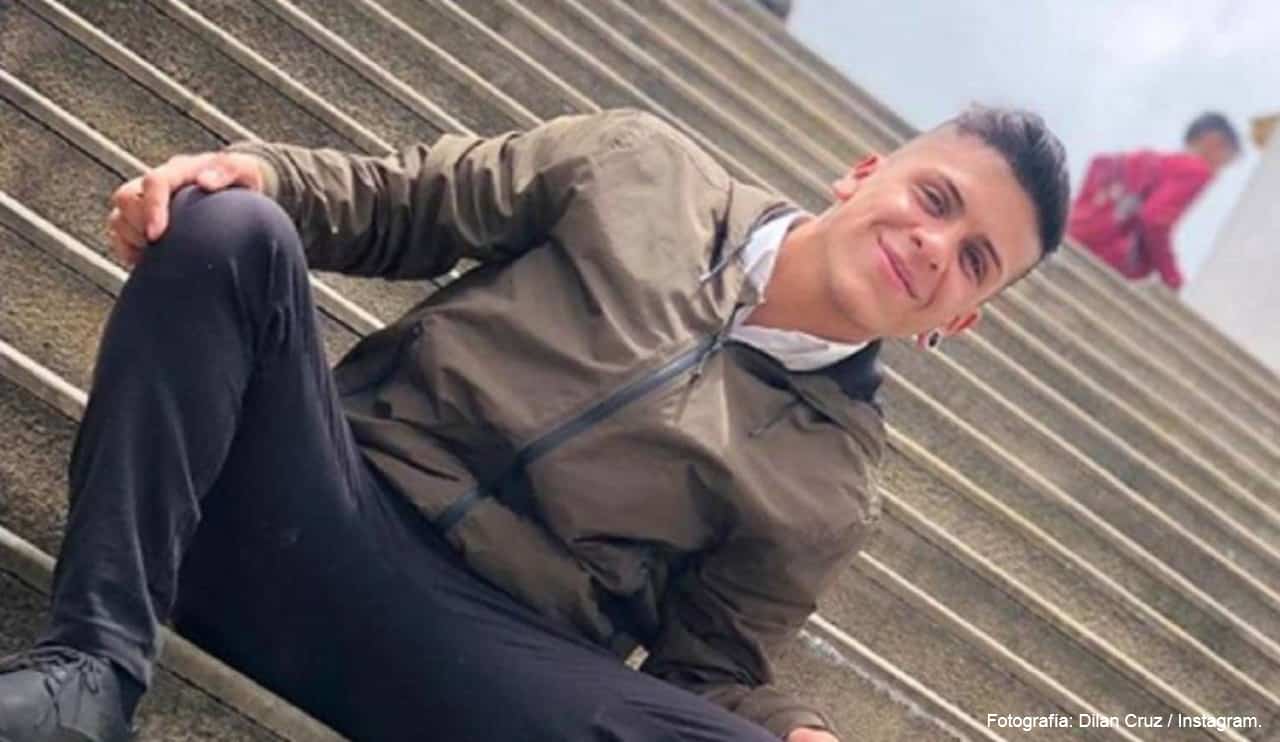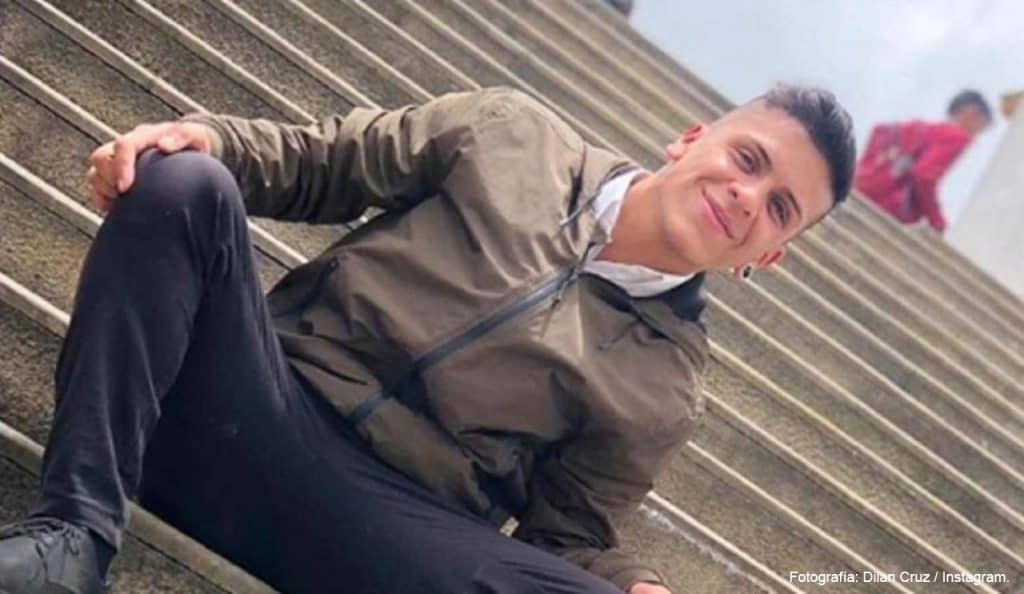 On 25 November 2019, people gathered across Colombia for a cacerolazo in memory of Dilan Cruz . His family asked that people make this a peaceful remembrance. The cacerolazo in memory of Dilan Cruz spread across towns and cities in Colombia. RCN filmed in Bogotá, Bucaramanga, Medellín, Popayán you can see this by clicking on Dilan's picture above.
According to the Colombian Commission of Jurists, Dylan's death appears to be the result of excessive use of force and violent repression by the Public Forces. It is essential that Dylan's death is fully and quickly investigated and punished.
Notes:
[1] Colombians voted for governors, mayors, town councils, and local legislatures on 27 October 2019. "Voters especially rejected the ruling rightist party of President Iván Duque and former president Álvaro Uribe. In most cities, voters also rejected powerful political machines. Independent candidates with anti-corruption messages—many with ties to social movements—enjoyed unprecedented success. However, in the countryside, it was business as usual: supported by rivers of questionable campaign money, local bosses and candidates of long-reigning, corrupt political clans who won easily." Adam Isacson